Aitkin County History,Heritage and Genealogy
Welcome To The Aitkin County Heritage Society
We live is such a fascinating part of Minnesota.So rich in it's heritage,and the history alone makes one want to put names to some of the individuals who first set foot in Aitkin County.
Here you'll find a variety of informational links pertaining to our region,and the puzzle pieces all connected that will give you a good feel of understanding why we're so proud of our community.
It's difficult to even know where to start when describing the history & heritage of our historical county.Yes,us volunteers consider our county in itself a historical monument.I think all us residents who reside in our county feel the same way.
Now with spring here we're really ready to get back to our books..(us old folks),and see if we can't add more to the historical aspect of our county.We're working with neighboring counties to create a bridge,because information has no boundaries. Not only that,but our past roots also had feet,and they may have crossed county lines,so we have to do what we can to keep this information flowing to the public,or at least some of us who really enjoy digging into our history,and sharing it with others.It really gives some of us a lot of joy.
The Beginning
Aitken County was established in 1857.The original name was "Aiken".We're assuming pronunciation had a good deal to do with the change,and they decided to go back to the original spelling of the founder,who was the original founder.His name was William Alexander Aitkin who was a fur trader for the American Fur Company.
When these fur traders arrive,the Dakota Indians were the dominating force among the Native Americans here,but the Ojibwe pushed them farther west with the help of fire arms from the fur traders.They were more easier to work with,and the traders at that time felt more at ease with the Ojibwe.
The North West Company (fur trade) added more heritage to the county,and one of their important outposts was just 4 miles outside of town here.
From the British to the French..to the Spanish.They all have one thing in common.They have all set foot in Aitkin County sometime in the past,and I'm sure they had no idea how things would turn out the way they have today regarding history.Very few of us have no way of looking that far ahead anyways.
As the fur trade died down,all thoughts were directed at the lumbering trade.
Once that took hold,things really boomed in Aitkin. Like all small towns we went through phases like every other small town that sprung up from the wilderness.
Things evolved,and being near the mighty Mississippi that helped play a huge part in our heritage.Being a majority transportation hub in the early days,I'm sure you can imagine the diversity that came through this way.
Present day we still survive on the past,and appreciate all the history that has taken place here in Aitkin.
Let us start with the Townships & Cemeteries which proves beyond a doubt we have some of the richest heritage,not to mention history in the State of Minnesota.Our County is so full of history it's hard for many of us researchers to stay focused on one specific category.
Here you'll find the townships listed below and the date they were incorporated.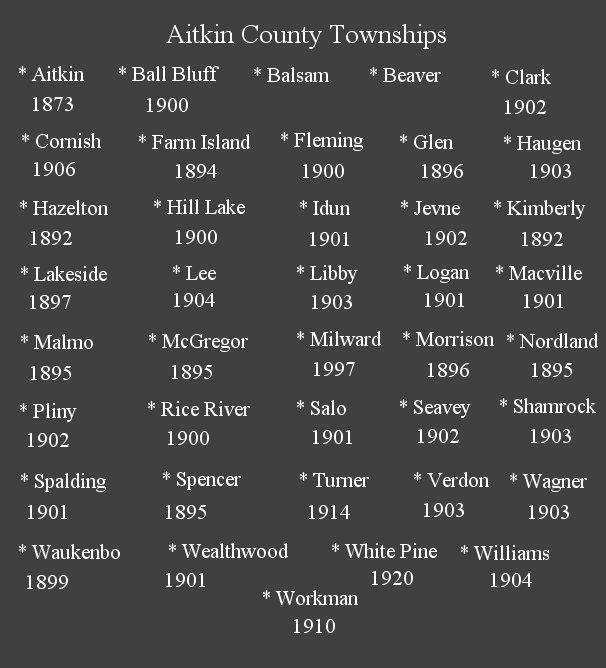 We can't begin to tell you the amount of cemeteries we have here in Aitken.It seems like every year someone comes forward directing us to one that's been lost,or forgotten as time went on.Presently we have outside sources investigating lost cemeteries here in our country.
The problem we're having is are these grave sites,past family burials on private property,or cemeteries with non-family members that was once an actual cemetery.It's sad when things like this happen.It's understandable when smaller sized grave sites get lost,but when there are dozens of graves all of a sudden discovered it makes us wonder how on Earth could a community just abandon the locations of graves,and toss the records away?
We are also looking into documenting Native American grave sites in the county and burial grounds.There is no way our staff is going to let grave sites vanish as they seem to have had in the past with so many.Then all of a sudden reminded over a cup of coffee at the local cafe that there are graves at so & so's place.It makes a person's jaw just drop.I guess word of mouth is how many documented things back in the old days.Though some cultures 1000's of years old have their burial site records still to this day on their past relatives.Our team really takes burial sites serious,and it just saddens us when we find burial sites that have been off record for 60 + years.
If we have a cemetery not listed.Please contact as us below so we can list it.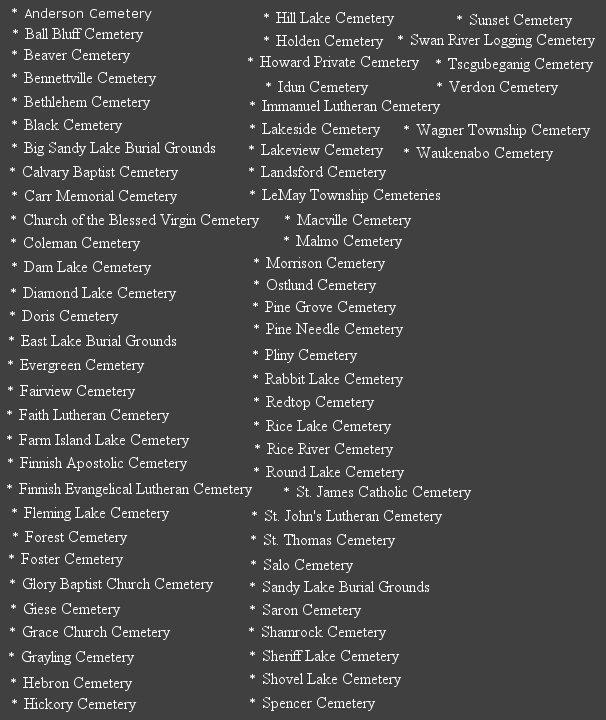 We will be adding a Surname list of the common names in the area who had roots that went back 2 generations or more.This is a difficult task so please be patient while our volunteers gather the names,and get them up on the site.By no means is this an easy task,and we wish it was as easy as picking up the White Pages and listing the last names who reside here,but that is so not the case.
Another thing we want to take into account is privacy concerns.Not all families want their last name listed publicly.
We try to make things as interesting as possible for the reader,so they gain interest in the heritage here in Aitkin County.
Any questions or comments please feel free to contact Paula James.
Thank you for taking the time to read up on Aitkin County.There will be plenty more to come and plenty more to share with you all.
Aitken County Heritage Society